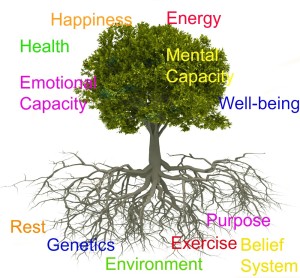 The roots of functional medicine
Functional medicine builds upon traditional food medicine by incorporating modern science. The old tradition of naturopathy made use of many modalities of healing based upon a set of principles that may stem from as far back as Hippocrate's principles of "first do no harm" and "let food be thy medicine". To my mind it is plausible and in fact likely that Hippocrates was himself influenced (via trade routes to the east) by ancient Taoist philosophy. Taoists, much like Western scientists, learned from nature by observing the 'nature of things'. They came up with the concept of 'Wu-wei' often translated as 'non-action'. Less literal translations might include 'not forcing', 'not interfering' (with the natural way of things), 'going with nature', 'using the most intelligent least effort for maximum effect' or 'not fitting a square peg into a round hole'. In functional medicine we ally our approach with the pre-existing natural mechanisms for healing. It is important to note that the nature one flows with includes ones own inner determination and essence, rather than just being tossed about aimlessly and absently on the currents of opinion from outside oneself. Taoist principles were applied in martial combat as much as in medicine, lovemaking and visual art.
I digress because functional medicine and naturopathy seek to find the root causes of disease so it seems worthwhile to follow the trail to the roots of functional medicine itself (as I imagine them to be). Naturopathy included the use of food and then supplements as medicine. In the 1980's nutritional therapy was already finding a more biochemical basis as introduced by Patrick Holford to his students in England. Functional medicine added to this a much greater emphasis on utilising modern laboratory testing in the name of the old naturopathic principle of 'find the root cause of disease'. The movement was in fact begun in the USA by medical doctors spearheaded by Dr.Jeffery Bland, who sensed the need for change from within the medical orthodoxy, and thus also has strong roots in the rigour of scientific method.
The principles of functional medicine
Functional medicine has long been guided by six core principles:
An understanding of the biochemical individuality of each human being, based on the concepts of genetic and environmental uniqueness.
Awareness of the evidence that supports a patient-centred rather than disease-centred approach to treatment.
Search for a dynamic balance among the internal and external factors in a patient's body, mind and spirit.
Familiarity with the web-like interconnections of internal physiological factors
Identification of health as a postive vitality – not merely the absence of disease – emphasizing those factors that encourage the enhancement of a vigorous physiology.
Promotion of organ reserve as the means to enhance the health span, not just the life span, of each patient.
The above principles are reproduced here with the kind permission of The Institute of Functional Medicine. The use of the word 'patient' is not intended in any way to portray Tom as a medical practitioner.
Functional medicine in practice
There is a danger in making general statements about health and nutrition in that everyone is different and there are often many more possibilities that may thus be missed. You may be drinking water for your headache but there are countless possible causes of headaches other than dehydration and you may receive contradictory advice. This is why Tom follows the functional medicine approach in asking detailed questions about your symptoms, medical history, family medical history and will assess laboratory functional tests and genetic tests where appropriate so that the advice given is appropriate to your individual needs to the best of current scientific knowledge and clinical experience. Tom will then seek to help you understand about your health in a simple way (or in a more complex way if that is your interest) since this is beneficial for empowering you on your own health journey but this will not be a generalised health conversation and may not apply to the next person.
Tom Sokolowski has completed The Institute Of Functional Medicine's training modules and attended the conference below:
September 2014 – Clinical Application Of Functional Medicine (Dr Kristi Hughes ND, Dr Kevin Maki PhD, Dr Andrea Girman MD, Dr Joseph Lamb MD)
October 2014 – Functional Nutrition Head To Toe: Comprehensive and Innovative Approaches to Nutritional Assessment (Dr Elizabeth Botham MD MS RD, Dr Michael Stone MD MS, Dr Leslie Stone MD, Michael Ash DO ND BSc RNT, Dr Kristi Hughes ND)
October 2015 – Applying Functional Medicine In Clinical PracticeTM (Patrick Hanaway ND, Monique Class MS APRN BC, Dan Lukaczer ND, Joel Evans MD, Shilpa P. Saxena MD, Michael Ash DO ND BSc RNT)
In the words of The Institute Of Functional Medicine:
Functional medicine emphasises a definable and teachable process of integrating multiple knowledge bases within a pragmatic intellectual matrix that focuses on functionality at many levels, rather than a single treatment for a single diagnosis. Functional medicine uses the patient's story as a key tool for integrating diagnosis, signs and symptoms, and evidence of clinical imbalances into a comprehensive approach to improve both the patient's environmental inputs and his or her physiological function.

The Institute of Functional Medicine teaches health care professionals how to apply these principles in practice through an intensive 5 day training course called Applying Functional Medicine In Clinical PracticeTM.
Tom Sokolowski attended and completed the AFMCPTM-UK training in London in 2015.