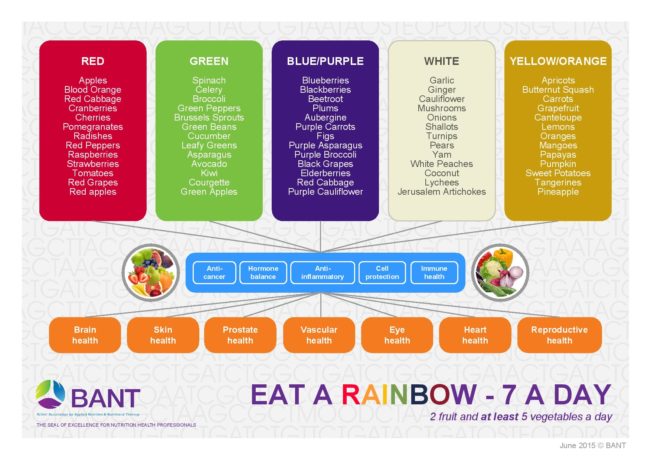 BANT (The British Association for Applied Nutrition and Nutritional Therapy) have released some generalised food advice that is far more up to date than the antiquated government 'eatwell plate'.
This chart makes the recommendation to eat vegetables and a small amount of fruit from each of the colour groups – not quite corresponding to a rainbow – red, orange/yellow, green, blue/purple and white.
The pigments that give vegetables and fruit their colours are the naturally occurring antioxidant polyphenols that help keep us healthy.
Toxins from the environment, diet and from our own internally generated toxins result in free radicals accumulating in our tissues. Mostly the free radicals we produce are harmful by-products but they are also generated by your immune cells to fight off invading microbes (1).
Atoms find electrical stability by balancing the positive charge of the nucleus with negatively charged electrons in orbits around the nucleus. The outer orbit should be full of electrons for maximum stability. Thus an atom tends to empty or fill its outer orbit by donating, stealing or sharing electrons other atoms to form stable molecules.
A free radical is an unbalanced molecule, atom or ion with a partially filled outer shell that is highly reactive and usually seeks to find stability by stealing electrons from neighbouring molecules, atoms or ions. These damaged protein, fat and DNA molecules are now free radicals themselves and so they propagate the damage to your tissues in a cascade reaction. You could think of this as violence begetting more violence.
This is where antioxidants come to the rescue. They are capable of donating a 'spare' electron without becoming destabilised themselves, much like a saint, Buddha or an aikido master might be capable of peacefully disarming a troublemaker. When your antioxidants are insufficient to counteract your free radicals your body tissues undergo 'oxidative stress' and disease can result (2).
For example high levels of sugar in your bloodstream will bind to and thus damage proteins forming advanced glycation end products (AGEs) but antioxidants in turmeric help protect from resulting complications such as cataracts in diabetic patients (3). AGEs age you not only functionally but visibly by damaging your skin so keep yourself young by eating a diet rich in antioxidants (4).
Different types of antioxidant work together in specialised ways to protect you and the different colours of vegetables and fruit correspond to different classes of antioxidants. Hence the advice to eat from each colour every day.
Even the very process of energy production in your cells produces free radicals. If we don't have enough antioxidants the mitochondria that produce most of our energy may become damaged and produce even higher amounts of free radicals which then further damage the mitochondria (5). This vicious circle of mitochondrial damage and oxidative stress is a likely cause of nerve cell death in Alzheimer's and Parkinson's disease (6,7) as well as a contributing factor in Chronic Fatigue Syndrome (8).
Just as plants survived the damaging energy of ultra-violet radiation with the protection of light-absorbing polyphenols (9) so these same molecules protect us from the free radicals produced by our own energy production.  The reason why these polyphenols are characteristically colourful is because they absorb certain wavelengths of light (and not others). Polyphenols also protect plants as well as humans from disease (10) and may selectively reduce undesirable bacterial populations whilst encouraging the growth of healthy gut flora (11).
To support your great health eat upward of seven portions of vegetables and fruit per day, limiting the fruit to 1-2 portions a day and covering the different colours.
This may sound like a lot but it is not so difficult to achieve. A salad with grated purple carrot, tomato, romaine lettuce, onion or garlic covers all five colour groups in one sitting and at a reasonable cost. When purple carrots are out of season grate a bit of red cabbage instead or just pick another item from the purple column to eat sometime in the day. Chewing raw cabbage also releases highly beneficial detoxifying and cancer-protective glucosinolates (12). Purple is often the most lacking colour in our diet and requires a little more effort to ensure a daily intake of seasonal produce but it can be done.
Some of us have a genetic predisposition to require even larger quantities of plant antioxidants to protect us from the toxins of the modern world and may need to eat in the order of a kilogram of non-starchy plant matter per day! Could juicing be the answer?
Anthocyanins are the antioxidants that give purple carrots their colour. Most of the anthocyanins in purple carrots are bound to fibre that would be broken down by bacteria that are concentrated in your colon (13). So it is argued that eating the whole carrot rather than juicing may release anthocyanins in your colon where they exert an anticancer effect (14). This may be so, but to reach other parts of the body we would want to absorb the anthocyanins in the small intestine and since some polyphenols are better absorbed when taken in solution away from food (15) juicing may provide more benefit. Some other types of polyphenols aren't well absorbed until microbes break them down in the large intestine (16) so it may make little difference if consumed as a juice or as solid food. In any case do eat a variety of whole plant foods as well any juices you make because bacteria in your colon produce short-chain fatty acids from fibre which also protects you from cancer (17).
I still maintain that if your genetics mean that in today's world you need an extra antioxidant punch then juicing can help you get that extra since all parts of the body need protection, not just the colon, which happens to be the focus of this study.
However I would advise to eat from all of the colours in solid form every day, and see the juicing as extra protection if you need it. I do not advise juicing sweet fruit nor making large quantities of juice from sweet vegetables such as carrot or beetroot and when you do juice carrot and beetroot have it with a protein meal with only a small portion of other carbohydrates. This may prevent too fast a release of sugars into your bloodstream and the resulting hormone imbalances which may cause overeating and weight gain (18). Eat your fruit fresh (not dried) and in its whole form so that the fibre slows down the release of sugar and enjoy it on an empty stomach to prevent fermentation.
Juicing is also very helpful for those with digestive conditions that are sensitive to fibre as part of a therapeutic (and hopefully short-term) diet.
Other good sources of antioxidants not included in the chart include cocoa (from raw cacao nibs or perhaps a dark chocolate sweetened with xylitol), green tea (especially matcha) or even black tea (19), turmeric, black coffee (20), olives and extra virgin olive oil (21). Please note there are risks in drinking coffee (22) and whether or not these outweigh the benefits may depend upon your genetics, the amount you consume and your current state of health. The same is likely to be true of green tea and chocolate. Milk reduces the availability of polyphenol antioxidants in coffee (23).
It is not only plants that can be rich in antioxidants. Wild salmon derives its pink colour from the antioxidant astaxanthin which protects the brain from neurodegeneration and cognitive decline (24). Egg yolks derive their rich colour from the antioxidants lutein and zeaxanthin which are associated with a decreased risk of macular degeneration (25), the fourth most common cause of blindness.
Some of these colourful phytochemicals may turn off pro-inflammatory genes (26) reaching deep within the nuclei of your cells to protect you. They may also turn on genes that aid detoxification and protect against free radicals (27).
Thus good antioxidant status may help you enjoy more energy (28), to heal the gut and promote weight loss (29,30), to protect the liver (31), to reduce the aging process (32,33) and encourage nerve cell growth (34). It may also help reduce the risk of almost every disease you can think of from cardiovascular disease (35) and depression (36) to cancer (37).
Related posts: